Here's a few random things:

I was given some headresses/tiaras by a woman not long ago who used to do fairy parties for kids, but they were kind of a bit munty (not in a good way) and too bright for what I want my fearie house to represent, so I did a bunch of stuff to them...






Here's a shot of the tiaras after I'd dyed them purple. I wanted them to come out darker than this (they were pink, so thought they might) but the feather just doesn't take to dye as I thought it would. They were still not right, and I was displeased with the gaudy jewells on the top.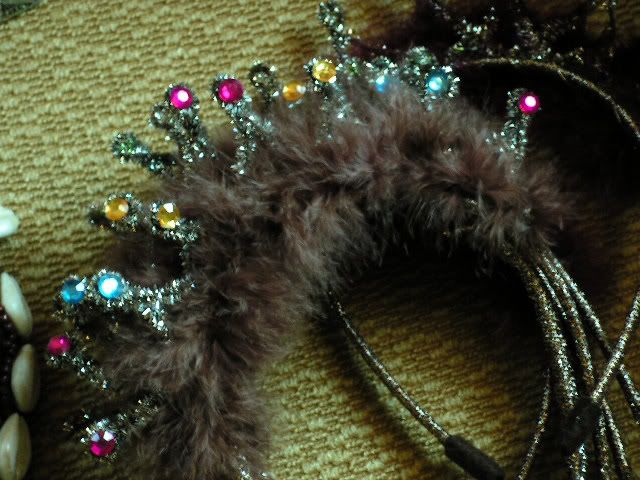 Here's what they look like now, after going through a brown dye. They've dulled right down to a rich maroony brown, which is much nicer, and the silver has 'tarnished' nicely as well. I'll still be taking the jewells off, and putting something cooler there. I'm not a big fan of shiney plastic things.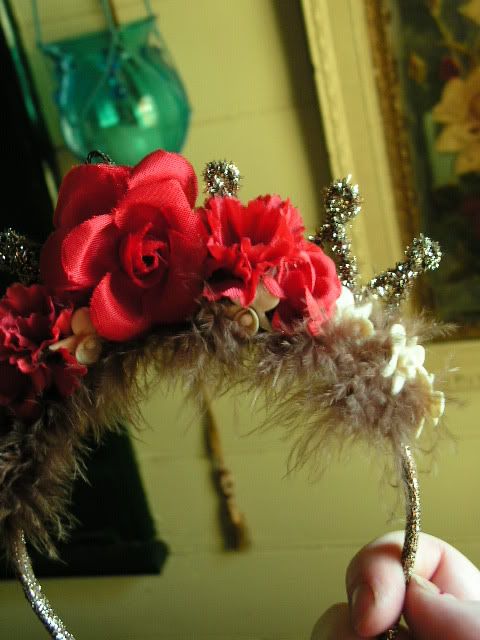 Here's one I added some embellishments too- vintage flowers (including some icing-style wedding blossoms that I think are designed for cakes. I think I'll do something simple on the tops of these, prolly just dip them in glue and red glitter.





The Hector necklace!!

It's all vintage stuff- the snake/dragony clasp is from a Masonic apron, then there's a tiny red apple (until I find a green one), a sword, a couple of buttons that almost match the one on his vest, and a skull and bones for funsises. I still have to make a tooth to hang from it, and that'll be out of sculpey- pretty wasy to replicate. I made one but I didn't bake it for long enough and it snapped. I'll be wearing this to Geoffrey's play.