The Green Pan headress, vintage flowers, tissue paper, PVA wire, newsprint, suede ribbon, brass bells and felt.

As soon as I spotted the spiralling shells in the shops a few weeks back, I knew that I'd turn them into horns. I didn't expect it to turn out so nice though!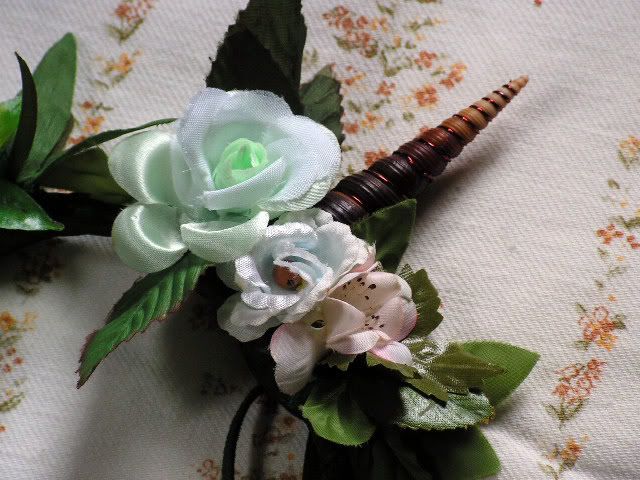 Close up- all vintage flowers and leaves, some beads to hold the wire on. Thinking of giving the flowers a brown ink wash, just to mellow them a bit.




The back- I always like to do as good a job on the back as the front. Everything I make looks good from all angles. I'm still considering if I need to cap the shell horns, just to tidy them up. Probably will, either with glittered PVA or Sculpey.




Back close-up. The shells were affixed to the base using coloured wire wrapped around their curves. I like the way it gives a very subtle shimmer to it without getting gaudy.

And here's what it looks like on: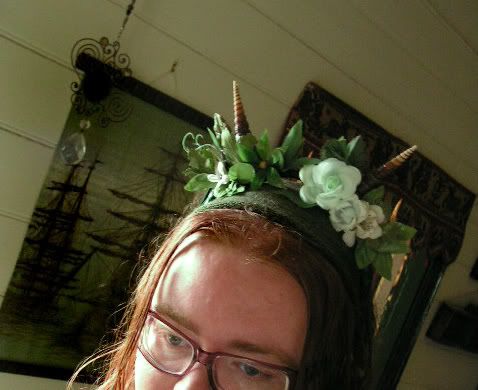 The matching green headband was a co-incidence. I didn't want to take it off, but it looks much better when nestled into the hair. Excuse my Snape fringe, I haven't showered today.